With a three-year, $1.9 million grant from the Department of Energy, CMU CyLab's
Anthony Rowe
and fellow researcher
Mario Berges
are developing sensor networks and an open-source software platform to optimize energy use in buildings, which annually consume 39 percent of total U.S. energy production.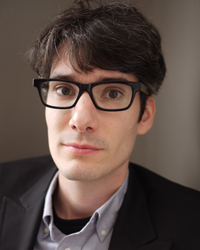 CyLab's Anthony Rowe
The project builds on results from a larger research effort to integrate all sensors on campus, called Sensor Andrew.
"We want to create a control platform for building energy management that will help monitor and understand energy usage patterns over time," said Rowe, an assistant research professor in the
Department of Electrical and Computer Engineering
as well as a
CyLab
researcher.
"User-friendly tools that quickly and economically analyze energy use will also help businesses and homeowners make better use of those technologies to save energy and lower their utility bills," Rowe said. "The big challenge is to eventually support zero net-energy buildings, buildings that over an entire climate cycle actually collect energy from sources like solar and wind power, and be efficient when those are not available."
Berges, an assistant professor in the
Department of Civil and Environmental Engineering
, also reports that these networks will give facility managers the ability to see if a building is wasting energy or needs replacement equipment.
Full Text of Press Release
Related Posts